Open
Marketing & Communications Senior/Manager
Senior / Manager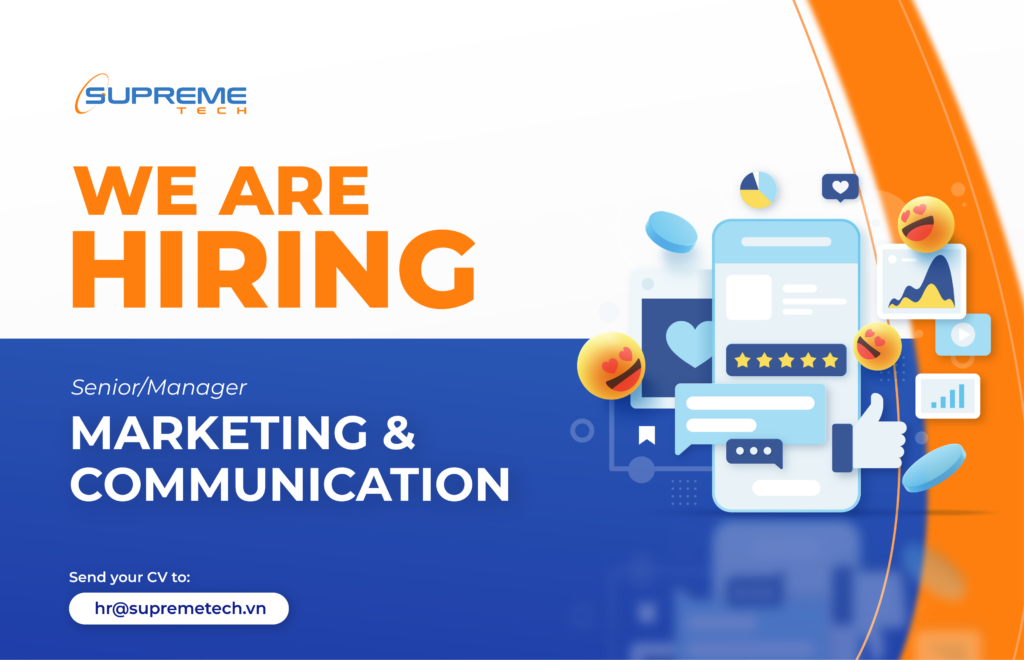 About us
We at SupremeTech want to be at the forefront of the IT revolution in Vietnam. Our engineers work not only for professional and technological development but also aspire to be part of an internationally expanding economy that is shaping the future of their country.
At our current speed of growth, we see ourselves as one of the most successful companies in Vietnam. But for us, it's about more than just numbers. We want to create a dynamic environment where all our employees have the opportunity to expand their horizons globally and to use their experience at SupremeTech to shape their career path, wherever it may lead.
What we're looking for
We are looking for Marketing & Communications position to hold in charge of our online and offline marketing & communications activities. We aim to increase brand awareness and sale lead for English speaking market. The job scope will cover all relevant planning and implementation of marketing communication activities that include Brand Building, Public Relations, Events Planning, Digital and Social Media Marketing, and all other activities that are essential to building a strong brand and connection with our target audiences.
Our 2 main brand assets are:
SupremeTech: supremetech.vn
Talenten: talenten.vn
Please take a look at the brands if you are interested in this open position.
Responsibilities:
Digital Marketing and Social Media:
Manage English-speaking countries client targeted social media, and public listing channels such as LinkedIn, Twitter, and others. Improve the efficiency in reaching potential clients' impressions and generating leads.
Collaborate with our current digital marketing agency to plan, implement, review, and improve SEO, SEM campaigns, and activities.
Establish and review KPIs for the digital marketing agency to align with CEO's strategy and budget.
Public Relations and Communications:
Develop and maintain communication channels with clients and partners both online and offline. These channels vary from mailing lists, blogs, and social network interactions to offline events, webinars, public sharing speech, etc.
Conceptualize and work with appointed PR and social media agencies to develop storytelling content.
Brand Awareness:
Establish and develop Talenten brand as a next-generation HR tech platform via various marketing and communication channels.
Propose, plan, and execute brand-building offline activities such as sponsorship, product introduction events, job fairs, etc.
Develop and maintain communities supporting the brand by keeping in touch, communicating, and giving benefits to community members.
Requirements:
2-4 years of digital marketing and advertising experience is required.
Excellent proficiency in Business English (7.0 IELTS or equivalent skills).
Excellent communication and presentation skills, combined with the ability to collaborate across functions.
Experience in community building and event planning.
Ready to initiate and work toward the planned goal.
Team player with a "can-do" attitude, who exhibits a strong sense of flexibility, and project ownership.
Experience in team management is highly preferred.
Our Key Benefits and Cares:
13th-month pay (yearly bonus).
Bonus on National Public Days
Annual leave: 12 days of Annual leave and 11 days of National public holiday
PTI Health Insurance
Salary review: 2 times a year
Promotion opportunity
Yearly company trip, Year-end party
Macbook laptop is provided
How to apply?
Please send your CV to hr@supremetech.vn with the title "Application for Marketing & Communications Position" or you can contact us via phone number 02363.626.989 if you have any concerns. We look forward to working with you.