Open
VP Assistant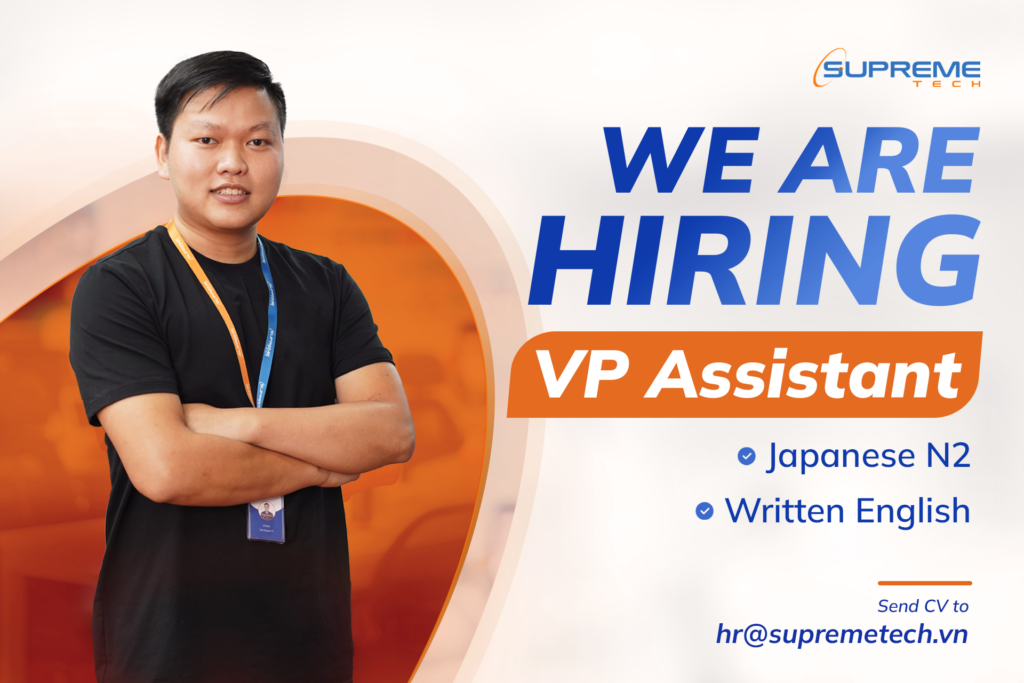 About us
SupremeTech is a leading software development outsourcing company in Da Nang, specializing in delivering high-quality software solutions to businesses across industries. With a track record of excellence and a global presence, we pride ourselves on providing cutting-edge technology solutions to our valued clients in Japan, Singapore, and the US. As we continue to expand our reach and explore new opportunities, we are seeking a multi-lingual and detail-oriented Sales Administrator to support our C-level officers in handling sales-related tasks.
Position: VP Assistant
This position will play a crucial role in assisting our C-level officers with various sales-related tasks. This position requires daily use of written and spoken Japanese skills and written English skills.
Although the position is not primarily responsible for closing deals, it is pivotal in ensuring the smooth processing of sales operations, maintaining accurate records, and facilitating effective communication with clients. The ideal candidate for this position should possess excellent organizational skills, attention to detail, and the ability to thrive in a dynamic and fast-paced environment.
Responsibilities:
Primary
Sales Support: Provide administrative support to the C-level officers in all stages of the sales and pre-sales process, including preparing sales pitches, proposals, company profiles, etc.
Documentation: Manage sales-related documentation such as contracts, agreements, purchasing orders, and invoices, ensuring proper storage and accessibility.
Meeting Management: Schedule and organize meetings with clients, take meeting minutes, and follow up on action items.
Additional
Customer Data Management: Maintain and update client information, sales leads, and opportunities in the CRM system to ensure accurate and up-to-date records.
Collaboration: Collaborate closely with the marketing team and accounting team to gather data, track marketing campaigns, track sales and revenue data, and analyze their impact on the sales pipeline.
Sales Reporting: Prepare regular sales reports, metrics, and performance dashboards to assist the management in making informed decisions.
Client Relations: Assist C-level officers in building and maintaining positive relationships with clients, providing exceptional customer service and support as needed.
Requirements:
Must have:
Education: Bachelor's degree in Business Administration, Sales, Marketing, or a related field.
Language Skills: Vietnamese native, who has Japanese Business Level and English Daily Conversation level. Japanese N2 and TOEIC 800 or equivalent.
Attention to Detail: Meticulous attention to detail to maintain accurate records and produce error-free sales documentation.
Communication: Excellent verbal and written communication skills to interact with clients and internal teams professionally.
Nice to have:
Experience: Previous experience in sales, sales support, administrative roles, or customer service is preferred.
Organizational Skills: Strong organizational and multitasking abilities to handle various tasks and prioritize effectively.
Team Player: Ability to work collaboratively with cross-functional teams and adapt to a fast-paced, changing environment.
Proactive Approach: A proactive and problem-solving mindset, with the ability to take initiative and address challenges.
Our Key Benefits and Cares:
13th month pay (yearly bonus).
Bonus on National Public Days
Annual leave: 12 days of Annual leave and 11 days of National public holiday
PTI Health Insurance
Salary review: 2 times a year
Promotion opportunity
Yearly company trip, Year-end party
Macbook laptop is provided
How to apply?
Please send your CV to hr@supremetech.vn with the title "Application for VP Assistant Position" or you can contact us via phone number 02363.626.989 if you have any concerns. We look forward to working with you.