FE Winter Internship 2021
20/10/2021
"Just like footprints in the sand, Each step signifies the journey taken."
Sau 1 kỳ Spring FE Internship rất thành công, dịp cuối năm này, SupremeTech lại một lần nữa hân hoan chào đón các bạn FE Intern mới đến với đại gia đình của chúng mình.
After a very successful Spring FE Internship, once again, at the end of this year, SupremeTech is delighted to welcome new FE Interns to our big family.
Đối với SupremeTech, thực tập sinh là thực tập sinh là những nhân tố quan trọng và đầy tiềm nằn đầy tiềm năng đóng góp vào sự phát triển của công ty. Do đó, SupremeTech luôn đề cao chất lượng đào tạo, luôn mong muốn mang đếm cho các bạn một môi trường học tập chuyên nghiệp và thoải mái, là hành trang vững chắc cho con đường sự nghiệp trong tương lai.
For SupremeTech, interns are potential factors and play an important role in the company's development. Consequently, we always appreciate the quality of training, want to bring you a professional and comfortable learning environment, which is a solid preparation for the future career path.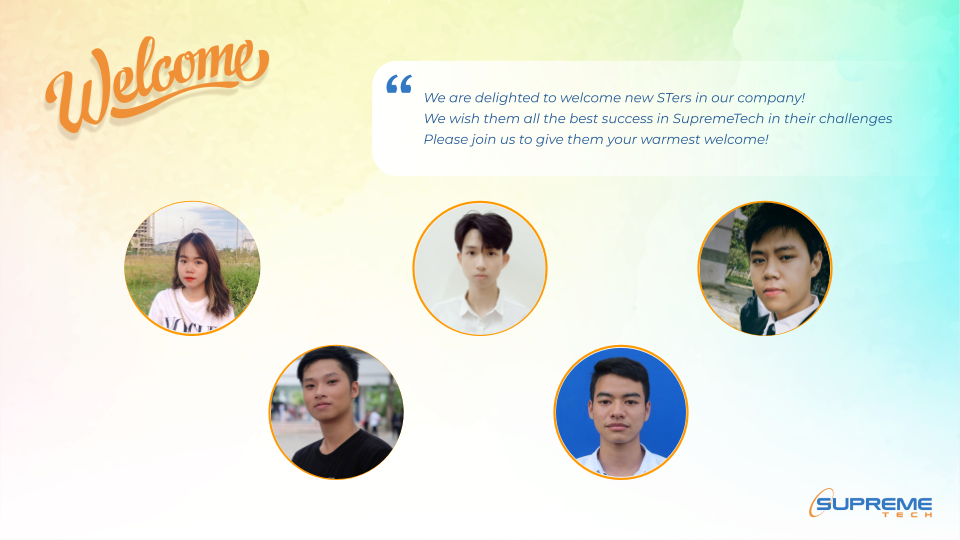 Mặc dù tình hình dịch bệnh vẫn đang diễn biến phức tạp và không thể chào mừng các bạn FE Intern tại văn phòng công ty, nhưng SupremeTech vẫn rất vui khi được gặp mặt online các bạn thực tập sinh trẻ tuổi, đa sắc màu.
Although the epidemic situation is still complicated and it is impossible to welcome our FE Interns at the office, SupremeTech is still very happy to meet our enthusiastic and talented interns online.
Hi vọng rằng đợt thực tập này sẽ là phần thưởng xứng đáng cho những nỗ lực của bạn trong suốt thời gian qua và là bệ phóng hoàn hảo cho con đường sự nghiệp của bạn trong tương lai! Chúng mình mong muốn được làm việc với bạn và hy vọng bạn sẽ thu được nhiều kinh nghiệm và hiểu biết sâu sắc thông qua chương trình thực tập lần này.
Hopefully, this internship will be a worthy reward for your efforts during the past time and a perfect launch for your career path in the future! We look forward to working with you and hope you'll gain a lot of experience and insight during this internship.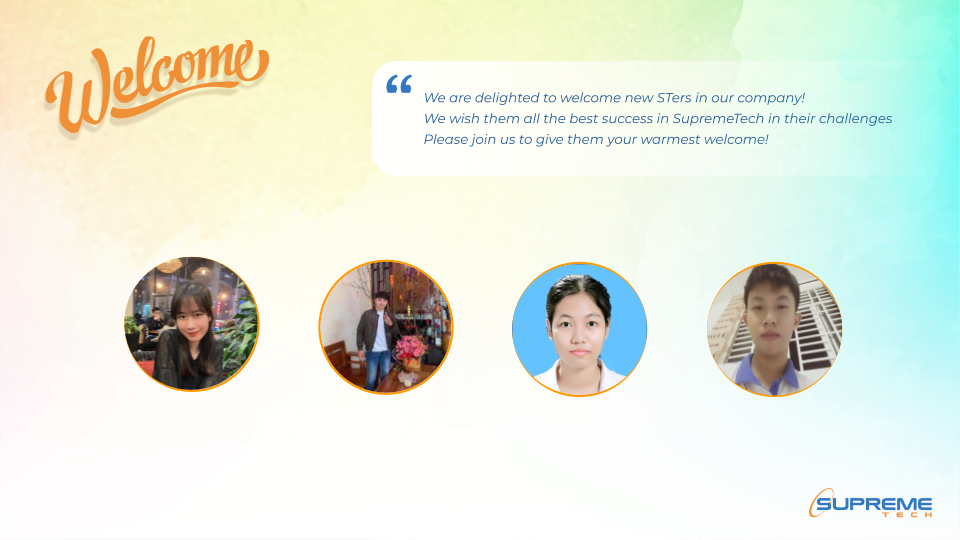 Cuối cùng, chúc hành trình 2 tháng thực tập của các bạn tại ST diễn ra thật thuận lợi và gặt hái được nhiều thành công!
Finally, a new job means a new goal, a new start, and a new world. May you enjoy this new segment of your life! Good luck.