Making an iOS version of the renowned weather app Weawow
Weawow is a free weather app that stands out from the crowd by offering an ad-free experience and showcasing beautiful weather-related photos contributed by photographers from around the world.
SupremeTech is honored to develop the iOS version of Weawow after it had already established a stable presence on Android and the web.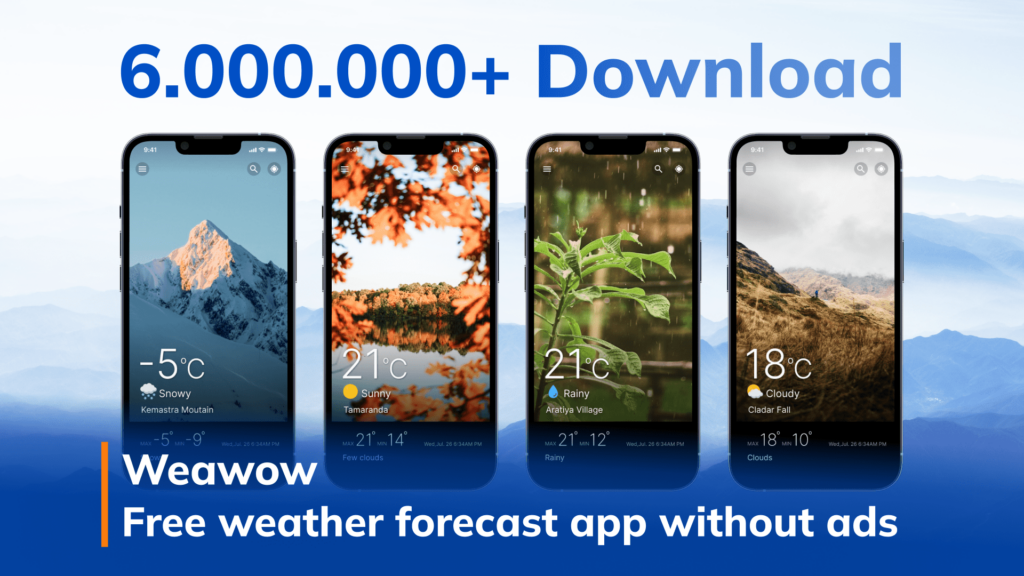 An Exceptional Weather App with Over 6,000,000 Downloads
Weawow, while relatively new in recent years, is steadily asserting its success in the 'weather app race' with over 6 million organic downloads for Android version only and a favorable rating of 4.8+/5 stars with over 591K reviews on Google play. Weawow is currently available in 176 countries around the world. We believe this free weather app will continue to grow and quickly become one of the most popular weather apps.
As an iOS development partner, SupremeTech is thrilled to contribute to the expansion and continuous growth of Weawow.
The free weather App That Makes Users Say 'Wow'
What sets Weawow apart is its ability to evoke a "Wow" reaction from users with its vivid weather predictions presented through imagery rather than mundane figures or text.
In addition to the photos provided by professional photographers, users can also capture their own captivating weather snapshots and share them on the Weawow platform. These images can then be seamlessly integrated into the app, visible to weather enthusiasts worldwide.
Weawow offers customization options, allowing users to choose how weather data is displayed, such as rainfall amounts, wind speeds, pressure, UV index, and more.
This app is available in over 50 languages, making it accessible to a global audience.
SupremeTech's Unique Challenge
In contrast to other clients, SupremeTech developed the iOS version of Weawow after it had already established a stable presence on Android and the web. Since the UI/UX design of the Android version, as well as the core features, is optimized perfectly, it's a unique challenge for the iOS team to adapt and keep up with the high quality. SupremeTech had to adapt the app to align with the existing platforms, all while meeting high UI/UX standards set by the earlier versions.
SupremeTech undertook the development of the app with a team of high-skilled iOS developers. We are truly inspired by the perfectionism of the Weawow team. With the great support from our client, we worked diligently and with great enthusiasm. In order to meet the requirement from the Weawow team, we quickly researched and identified the most efficient methods for implementation based on the existing version available on Android.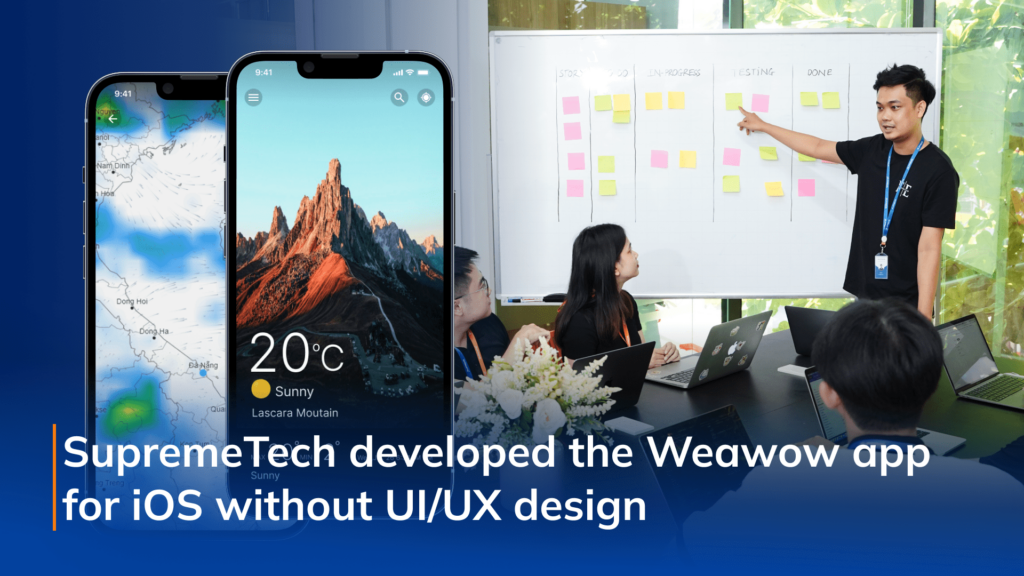 This challenge demanded a high level of ownership from SupremeTech, as we actively researched and resolved issues throughout the development process. Despite these obstacles, SupremeTech successfully completed the project within a year, utilizing Swift as the programming language. The results garnered positive feedback from Weawow.
Mr. Shinohara, President of Weawow Inc., expressed satisfaction with SupremeTech's work:
"Due to the popularity of our application on Android devices, we requested the initial development of an iOS application. We only provided them with the Android app source files, API documentation, and simple notes on implementation, but they created something almost identical to the Android app. We didn't have to spend a lot of time communicating with them to develop the app, and the iOS app source code they produced was very easy to understand, so when we made changes or corrections, we could easily understand the scope of the impact, making the subsequent management of the app much more effortless."
Main Features of this weather app
A list of photos taken by photographers around the world
The photos reflect the weather at the user's current location and show whether it is sunny, cloudy, rainy, or snowy, so it is better to wear an umbrella or sunglasses when going out. You can decide if you need it.
We designed it so that when you open the app, you'll encounter beautiful photos instead of boring text-based predictions.
Also, if you took your own photos, you can post them through the website and we've integrated them into the app for display by weather watchers around the world. (The app is available in over 50 languages.)
Weather map and radar display
– Weather providers: NOAA, RainViewer, MET Norway, MSC
– Globe (14-day forecast): You can check wind animation and various weather layers on the 3D globe.
– Google Maps (Radar and 1-day forecast): You can check the actual rainfall radar on Google Maps.
Weather data
– Changeable weather providers: NWS (NOAA), DWD, MET Norway, Dark Sky, AerisWeather, Weatherbit, World Weather Online, Open Weather map, (AccuWeather, Foreca) – No ads at all despite being a free
app Implementation not shown.
-Supported languages: English, French, German, Spanish, Chinese, and 50 other languages.
If your business already owns an app in one version and wishes to expand to either Android or iOS platforms, don't hesitate to contact SupremeTech. With our experience, SupremeTech is committed to ensuring your satisfaction. Get in touch with us today.