Makuake STORE – Shopify store development services for an original crowdfunding site
30/06/2023
With a custom built Shopify store management solution, Makuake STORE obtains a smoothly collaborative environment for their stakeholders to co-manage the store and deliver outstanding shopping experience.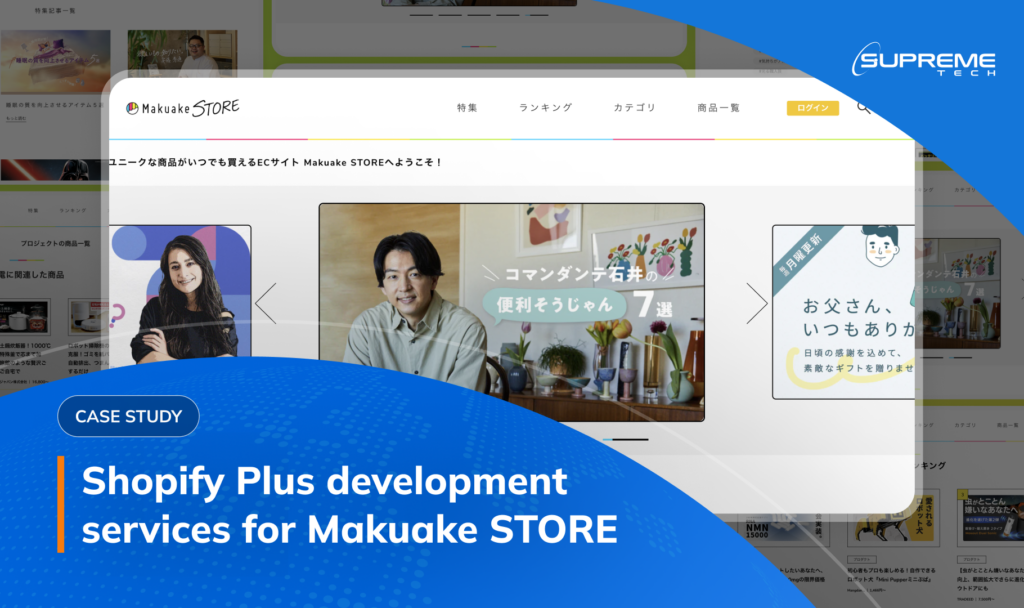 Technical challenges from an online mall-like business idea
Makuake Co., Ltd. initially provides a crowdfunding listing website named "Makuake" for newly-launched products and services. It is a platform where creators can list their original products and call for public fundings from supporters. "How can supporters buy the products after the listing is ended?", wondered Makuake leaders when the platform starts to grow fast. "And it would be a waste if creators cannot continue to make money from the brilliant ideas of their own on our website. That's the gap we will fill in."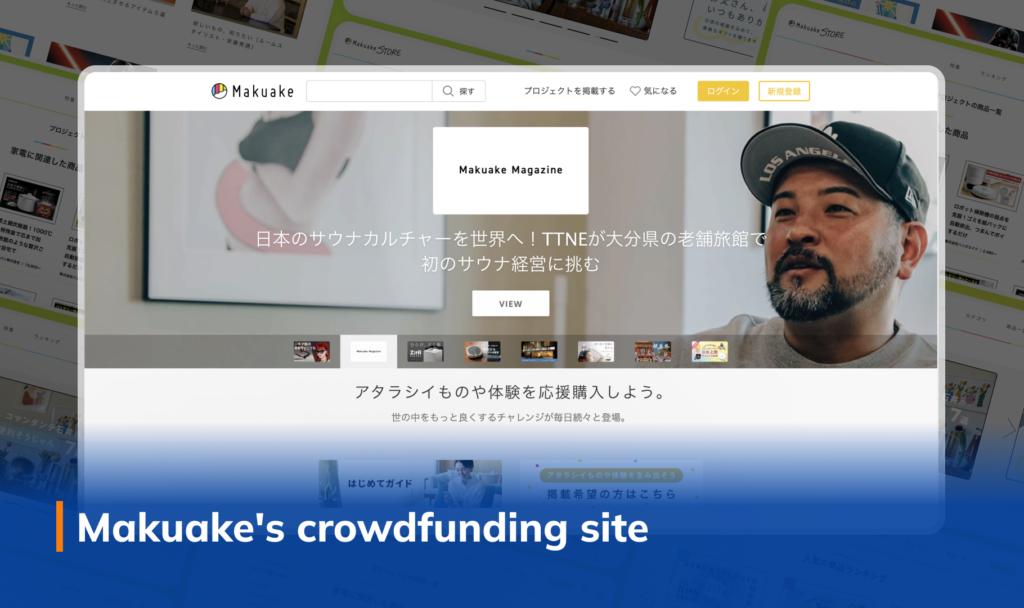 A single-minded desire to "continue to support the growth of the implementers" and "provide an exciting shopping experience as a place where supporters can purchase their favorite products again" urges Makuake team to build an E-commerce site where the creators can sell their new products to the end consumers. That's where Makuake STORE was born.
Makuake STORE, then an online mall-like store concept under the name of Makuake, should not only bring consumers the enjoyable shopping experience that no other place does, but also assure smooth operational teamwork between Makuake and creators, not to mention retain high-standard experience of supporters as it originally does. An excessive portfolio of products and operational requirement of the three parties involved certainly pose a mind-bending challenge to Makuake STORE operational team.
The question is how to set up a custom Shopify store that is linked to the current crowdfunding site and a management system which Makuake team and creators can co-operate for an ultimately wonderful shopping journey. It's a huge puzzle to solve right there.
Shopify Plus is a good choice. But it's not enough.
After receiving a challenging brief from Makuake, we jumped into deep research and broke down the case into two phases. Then our research showed that Shopify Plus is regarded as an optimal platform to cultivate Makuake STORE on. Its available functions allowed us to launch Makuake STORE in a short amount of time without much technical effort. And that was a good choice.
Due to the time constraint at the beginning of the project, we were wired to integrate the ready-for-use apps available on Shopify to serve the basic operational needs then. But we knew there certainly came a must-have circle of building and optimizing.
Phase 1: Custom Shopify development services for an admin app
We identified in our proposal that the first and foremost task is to quickly provide merchants with a custom admin app. So merchants can manage their own store inside Makuake STORE site. It took us soon enough to realize that the complex characteristics of a mall-like Makuake STORE cannot be fulfilled only by Shopify Plus's limited available functions. Each merchant wanted to manage their store in a unique way. What we should aim for is a custom Shopify app development that supports all three parties at the same time.
In order to solve this case, we flexibly develop a custom admin app to bridge the Shopify solution apps and Makuake current operation system to Shopify. The expertise is not to build everything from scratch because it took a lot of time and less cost effective. We incorporated the custom features to the third-party apps so that Makuake STORE operational team and merchants can perform the tasks Shopify cannot. For example, Shopify limits the number of admins accessible to the store, while Makuake STORE needs to share management roles with thousands of independent sellers to co-manage their own product and order.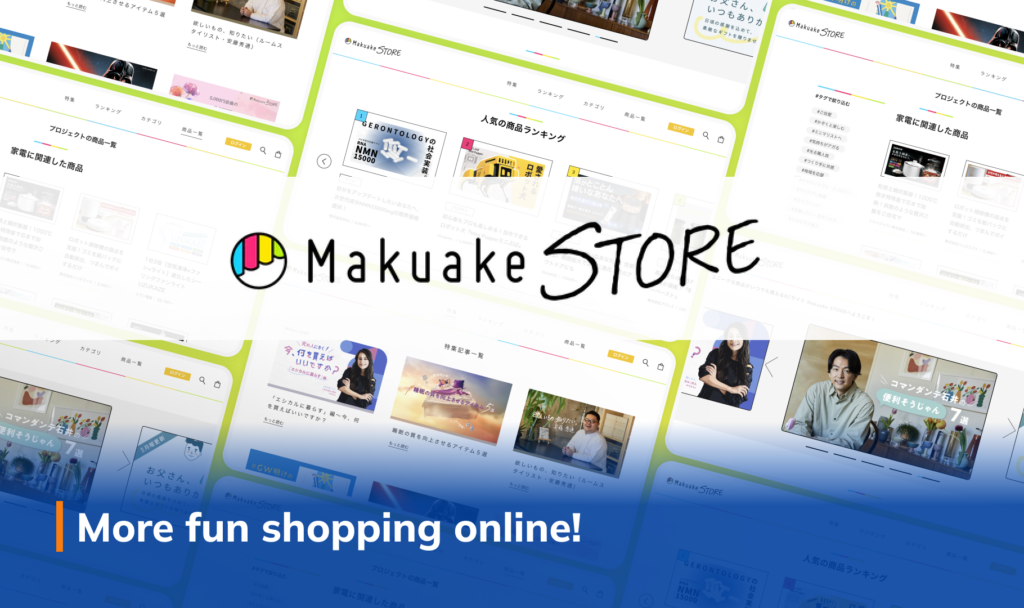 Phase 2: Add more features to serve three-party operations
The next milestone in product roadmap is to continue adding custom features to the app so that merchants can set up their own customers' buying journey. Our solution takes into consideration the full-circle E-commerce management.
Custom Order
Order Workflows
Order Attributes
Shopify checkout flow
Shipment
Multi-Order tracking
Multi-Warehouse Shipping
Multi-Carrier Shipping Support
Automated shipment notification
Customer
Inventory
Multi-Warehouse management
Product data
Access control system
Automated Product Data Sync
Custom Product Data Mapping
The development process includes but not limited to data migration from/to Shopify, integration with 3rd-party systems, automated data exchange, PC & mobile responsive themes, maintenance services.
In terms of operational screens, there are three main parties involved including Shopify admin for Makuake, Seller admin and Operator admin. For Shopify admin, we integrated custom-built functions to upgrade its capability. For Seller and Operator admins, we built everything from scratch.
While optimizing the operational system, we finetune our web app with some upcoming favorite features in pursuit of "enjoyable shopping experience". The can-do spirit inspires us to proactively and constantly seek for new approaches to optimize the product. Furthermore, our pleasant correlation with Makuake team and Shopify enables us to generate new ideas and bring them to life. Makuake is a super passionate and open-minded client who clearly guide us throughout the way and jointly tackle the challenge where it needs their expertise. As featured in our motto "Build the next world-class together", we consider working as one team the primary key to success. While Makuake team focuses on perfecting the product concept, we take ownership of technology solutions and product development. Together we make product concept a reality. We believe our collaboration would achieve further success in the near future.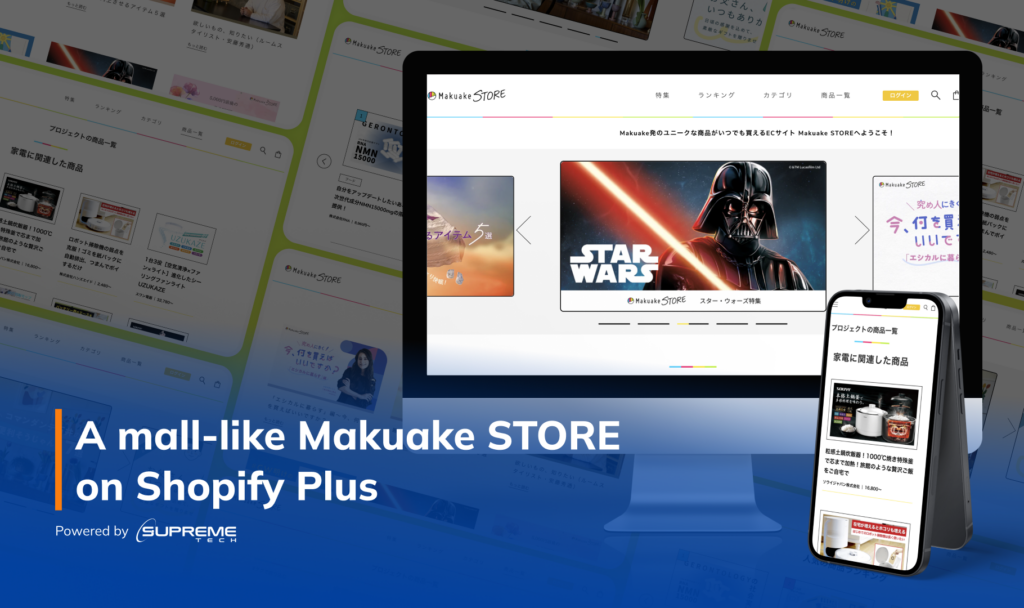 We made it! A custom Shopify solution to streamline store operations
After 7.5 month of development and teamwork, we accomplished our primary objective of the project which is to operate and maintain a fully-functional management system for an online mall-like Makuake STORE. The model proves to work well as the website records huge traffic surge and the popularity continues to expand widely in Japanese market. The more the product thrives in the market, the more technical challenges to solve in our continuous development process. We cannot wait to keep moving forward and tackle those challenges!
Development system and technologies
Below are the resources and technologies we use to deliver Shopify store development services:
Details of entrustment: Design, Implementation, Testing, Migration, Maintenance & Operation
Platform: Web app, responsive web app, Shopify
Infrastructure & Architect: AWS, Serverless, NoSQL
Development language: Node.js, React.js
Get your Shopify Plus custom development services from SupremeTech!
SupremeTech offers comprehensive solutions to migrate your current website to Shopify. We have the expertise to build a tailored software which streamlines your e-commerce management and enhance customer experience.
Contact us now to take a step forward and discover how you can make your unique business idea come true with our technical solutions.
Brought to you by Makuake – SupremeTech team.