Transforming Hiring with AI Talent Matching Platform
19/07/2023
Talenten is an innovative platform in Vietnam that has transformed the way of hiring top talents. Our mission is to connect the best 10% of talents with excellent employers. Talenten uses AI to simplify hiring for candidates and businesses, making it fast and efficient.
Leveraging advanced AI technology, Talenten provides a range of innovative features such as the Jobmatch Score, video CVs, and a job-seeking social network, empowering candidates to showcase their skills and helping businesses find the perfect match for their organizations.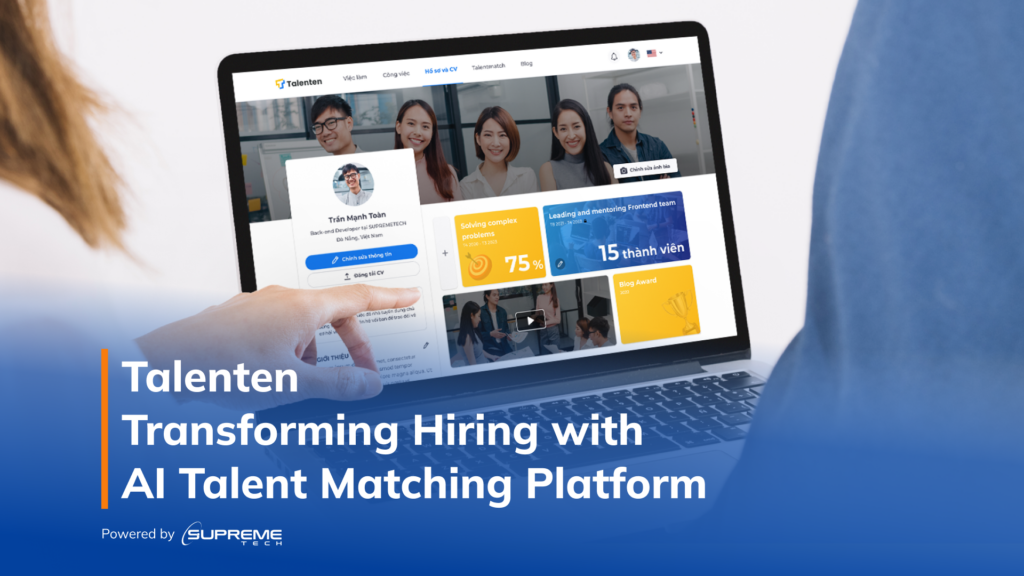 The Catalyst for Transforming Candidate-Employer Relationships
As a forward-thinking recruiter, you understand the importance of building strong connections with top talent. However, the traditional relationship between candidates and employers has often been marked by challenges and inefficiencies. That's where Talenten comes in, revolutionizing the dynamics between candidates and employers in profound ways.
Talenten has recognized the need to streamline and improve the candidate-employer relationship. Through its innovative platform, Talenten has transformed the way recruiters and candidates interact, enhancing the recruitment process in several key ways.
Enhanced Candidate Engagement
Talenten provides a user-friendly interface that attracts highly skilled candidates. By creating detailed profiles and showcasing their expertise, candidates can present themselves in the best possible light. This enhanced engagement not only captures the attention of recruiters but also enables them to make informed decisions based on comprehensive candidate information.
Intelligent Matching
Talenten's intelligent matching algorithms analyze candidate profiles and job requirements to provide recruiters with a curated list of highly suitable candidates. This smart technology saves recruiters valuable time and effort by presenting them with candidates who possess the right skills, experience, and cultural fit for their organization.
Streamlined Screening
With Talenten, recruiters can easily screen candidates through video interviewing. This feature allows you to assess candidates' communication skills, professionalism, and cultural fit remotely. By eliminating the need for in-person meetings, you can efficiently evaluate candidates and identify the top talent from a wider pool of applicants.
JobMatch Score
Talenten's JobMatch Score is a unique scoring system that assesses candidates based on their skills, experiences, and compatibility with specific job roles. This score provides recruiters with an instant overview of a candidate's suitability, enabling them to prioritize and shortlist candidates efficiently.
Talenten has transformed the candidate-employer relationship by introducing innovative features that improve engagement, communication, and the overall recruitment experience. By leveraging Talenten's powerful platform, recruiters can connect with top talent, identify the most suitable candidates, and streamline the hiring process.
Talenten's Trailblazing Solutions for Success
Talenten offers a range of services designed to simplify and optimize the recruitment process for employers. These services include:
Free Job Posting: Employers can post job openings on Talenten for free, expanding their reach to potential candidates.
Talent Search: Employers can find suitable candidates using Talentmatch and the expertise of the Talent Acquisition team.
Candidate Capability Assessment: Talenten's industry experts analyze candidates' capabilities, providing employers with a comprehensive understanding of their skills.
Smart Recruitment Tools: Businesses can streamline their recruitment process, from resume screening to competency evaluations, within the Talenten platform.
Strategic Talent Attraction Consulting: Talenten offers consulting services to help businesses implement effective recruitment methods and enhance their employer branding.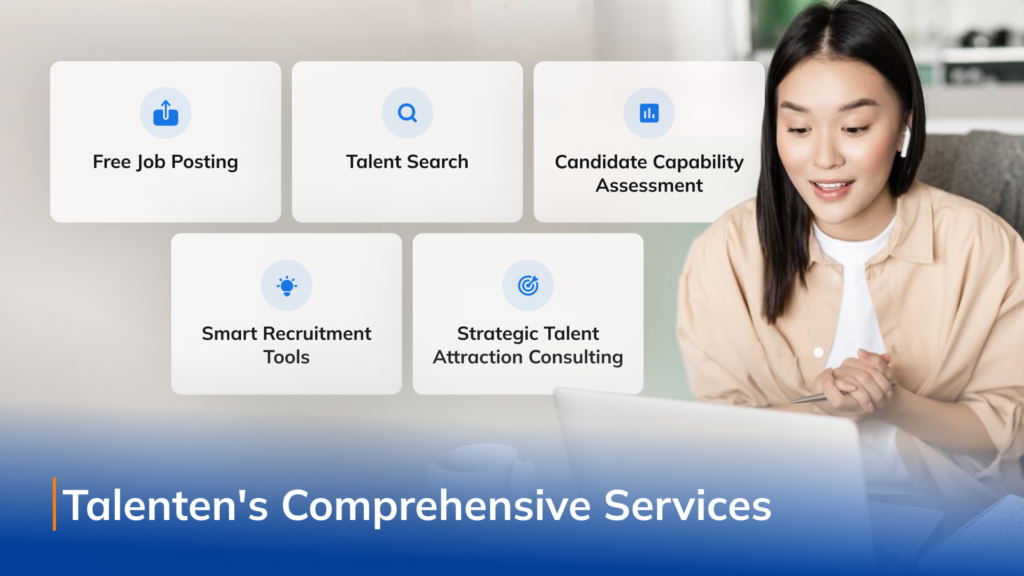 Talenten's Game-Changing Features for Candidates
Talenten's Solutions is empowering candidates in their job search by providing a wide range of tailored features. Recognizing the importance of creating a positive and empowering experience, Talenten's Solutions goes beyond traditional job search platforms.
Talentmatch
Using AI technology, Talenten assesses candidates' skills to help them find the most suitable job opportunities.
Video CV
Candidates can create personalized video CVs that showcase their unique qualities, making them stand out to employers.
Marketplace
Talenten connects job seekers with good job options that match their career goals.
Job-seeking social network
Talenten allows candidates to create profiles, connect with experts, and interact with employers in a networking environment.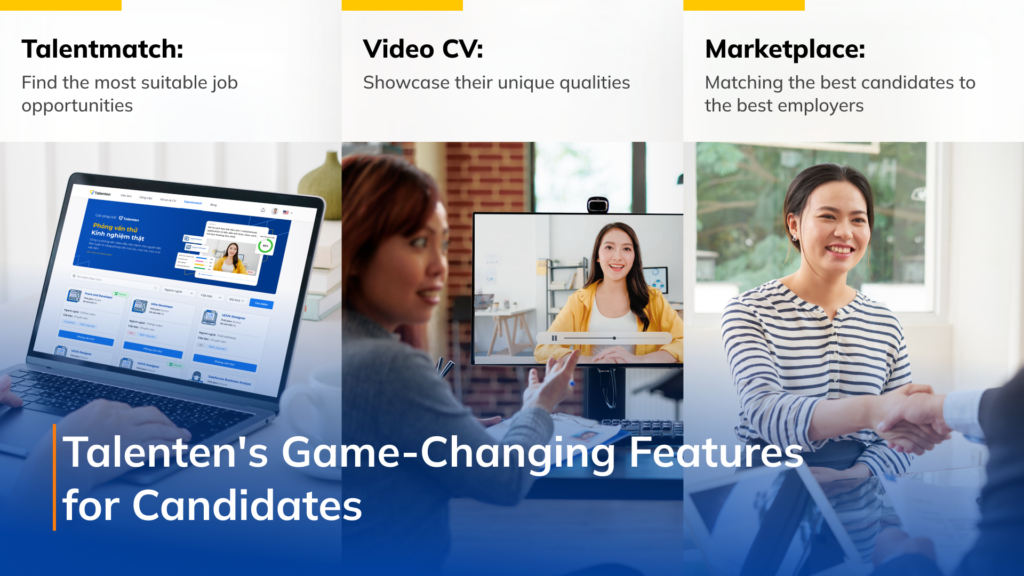 Innovative Development Journey: Building Talenten as an AI Recruiting Platform
Talenten's development involved research, brainstorming, prototyping, and testing. Research and development identified market needs, while brainstorming generated innovative ideas. Prototyping and user testing ensured a user-friendly platform. Challenges included refining the AI talent matching algorithm and ensuring data security.
To overcome these challenges, our team collaborated with experts, conducted rigorous testing, and implemented strict security measures. Continuous feedback from users guided improvements and feature enhancements. Through these efforts, Talenten became an automated talent matching platform, effectively connecting top talents with employers in Vietnam.
Development Systems and Technologies
Talenten utilizes various resources and technologies to develop its services:
Details of entrustment: Design, Implementation, Testing, Migration, Maintenance & Operation
Platform: Web app, responsive web app, Google Analytics
Infrastructure & Architect: GCP, Serverless, MySQL, Docker, Github Actions
Development Language & Frameworks: NestJS, NextJS, SASS, Typescript, Terraform
Talenten: The best choice for your hiring process
In the dynamic realm of recruitment, Talenten emerges as a game-changer, reshaping the hiring landscape in Vietnam. With its groundbreaking talent matching platform, Talenten seamlessly connects exceptional candidates with employers in search of excellence, fostering an efficient and effective hiring experience for both parties involved.
By leveraging cutting-edge AI technology and a range of distinctive features, Talenten empowers candidates to highlight their abilities and find the best job opportunities while providing businesses with access to a wide network of exceptional talent.
This ensures that recruiters can find the ideal candidates who perfectly align with their organizational requirements. This targeted approach saves recruiters time and resources by ensuring they can quickly and accurately connect with candidates who are most likely to excel within their organization. As a result, recruiters can confidently and efficiently hire candidates who align closely with their organizational needs, leading to better long-term outcomes and success for the company.
The forthcoming integration of AI in the CV profile represents a significant advancement that will further elevate the candidate experience. By providing personalized insights and tailored recommendations based on individual profiles, this development promises to revolutionize the hiring process, facilitating even more precise and efficient matches between candidates and employers. Talenten continues to spearhead innovation in recruitment, driving transformative change in the Vietnamese job market.
Powered by SupremeTech. Contact us for more information.