How To Onboard New Employees Remotely Successfully With Support Software?
28/02/2023
Hybrid and remote working is now a common practice and is regarded as the future trend. This type of flexible working has numerous advantages in terms of increasing employee productivity and quality of life. However, this situation has made it more difficult for many companies to manage and train new employees. So, how to onboard new employees remotely successfully with support software? Let's check and figure them out in the article below.
What is remote onboarding?
Onboarding is the process of assimilating a new employee into a company and familiarizing them with the company culture and policies. This process helps them to become an effective and contributing member of the team.
Remote onboarding is the same procedure as in-person onboarding but is carried out remotely and is intended for team members who will primarily work remotely. Because remote onboarding takes place virtually and uses video calls and technology tools, there are several important approach adjustments that can be made to improve the experience.
To have a great onboarding experience, they need the right technology, tools, and resources. Furthermore, when everything is done through computer screens or phone calls, the structure of the onboarding process must be invested more, which means that a support software is critical.
The importance of a smooth onboarding process for remote employees
According to a Global Workplace Analytics and FlexJobs report, the number of Americans engaged in remote work increased by 159% between 2005 and 2017. After Covid 19, those figures skyrocketed as remote work became the preferred option for many employees.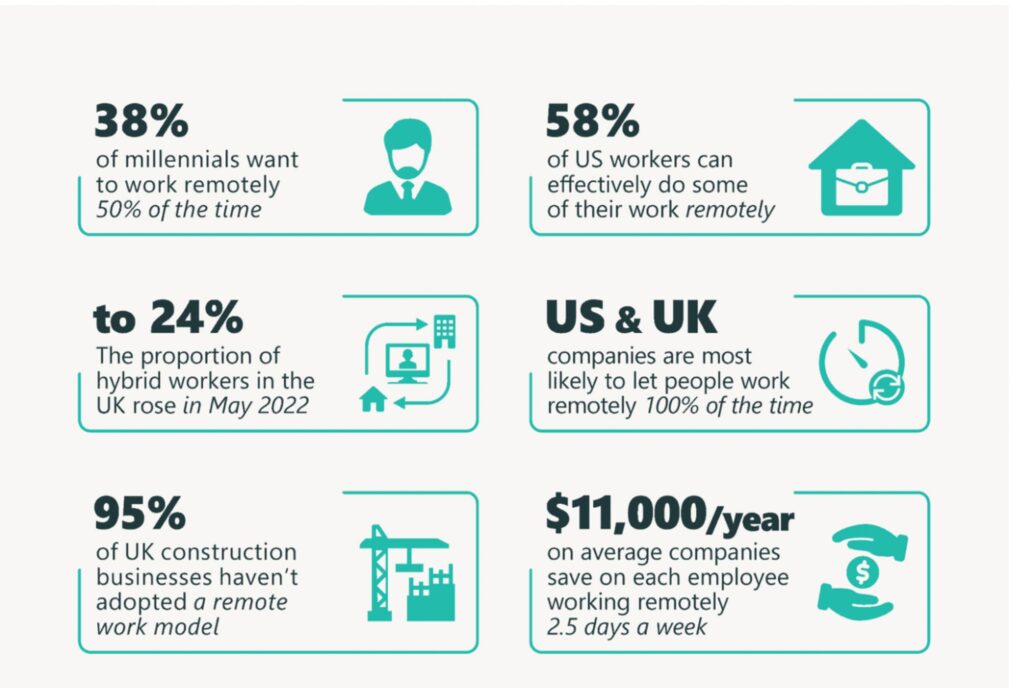 The aggregated data from vpnAlert once again proves that remote working is becoming popular and it's necessary for all businesses to learn, and it's necessary for all businesses to learn and develop an effective remote personnel management policy, especially the remote onboarding process. "How to onboard new employees remotely successfully?" is the puzzle every business needs to find the answer to.
A thorough and well planned employee onboarding system aids in:
Ensuring newcomers will be more productive
Show the organization's goals, principles, and distinguishing qualities clearly.
Demonstrates to new workers how their behavior and attitude at work can interact with and shape the culture.
Maintaining access to and accountability for your managers
We already understand the incredible advantages of remote work, but it's also obvious how disastrous this environment might turn out to be if remote workers aren't properly onboarded.
A thorough onboarding procedure is essential because you must give them the knowledge they require to do their jobs well while also enabling them to think independently.
Tips on How to onboard new employees remotely successfully
Forbes claims that after just 45 days on the job, up to 20% of new hires choose to leave the organization. This number is highly concerning because, on average, firms have to pay $3,000 for each such individual.
To reduce this worrying number, the onboarding process will guide and create the best conditions for employees, especially remote workers, to work and develop, thereby building trust and connecting them more deeply with the organization.
Provide a Clear Plan From the Start
The main difference when onboarding remote employees are that you might need to make a more thorough list of your goals and the steps you'll take to achieve them so nothing is missed.
The stress and anxiety that new hires might experience can be reduced by making a plan and scheduling all of the meetings with agendas, video links, etc. This will also guarantee that they are introduced to all of the people, procedures, and projects that will be a part of their work.
Technical Support
Since technology is a big part of remote work, it makes sense that you'll need to make sure everyone has the tools and software they need to keep everything running smoothly.
Any necessary equipment should be ordered and delivered to the new employee. By doing this well in advance, you can avoid delays on the first day and give the new employee plenty of time to become acquainted with any novel procedures or technologies. Besides that, you need to ascertain that the new employee has access to your business's systems. It's a great idea to make quick instructional videos or arrange a video call to walk them through configuring their devices and logging in.
Communication and Engagement
49% of employees believe that making friends is the best way to get used to a new job.
However, one of the most significant benefits of on-site offices over remote teams is typically the community. In actuality, the closer coworkers are to one another, the more likely it is that they will give their all to the business.
While it is currently unlikely that your new team will be able to spend actual time together in person, you can still come up with some remote-based activities for teams to engage in for time apart from work like virtual coffee hangouts.
You can try Today.ly – a Virtual office application where you can see your team and talk to them instantly.
Explain the company culture
It's not difficult for office workers to get a sense of your workplace culture from the people they interact with, the staff members' appearances, and even the setting of the office. The values of the company as well as the standards and culture that govern employee behavior, on the other hand, might not be clear to remote employees. Later on, this might cause misunderstandings and conflict.
Even if your new hire plans to remain remote, they still need to feel a part of your company's culture. Since they are not physically present, use your words to demonstrate your culture to them using concrete examples. Throughout the onboarding process, incorporate cultural touch points by inviting them to a fun chat channel or designating an onboarding buddy.
Follow-Up for Feedback
Last but not least, it's critical to solicit opinions on the onboarding procedure from your remote workers. Find out from them what they thought worked well and what they feel you could have done better. They will be best suited to provide you with constructive feedback because they have been through the process. Making your company's future onboarding procedure as good and efficient as feasible depends on their recommendations.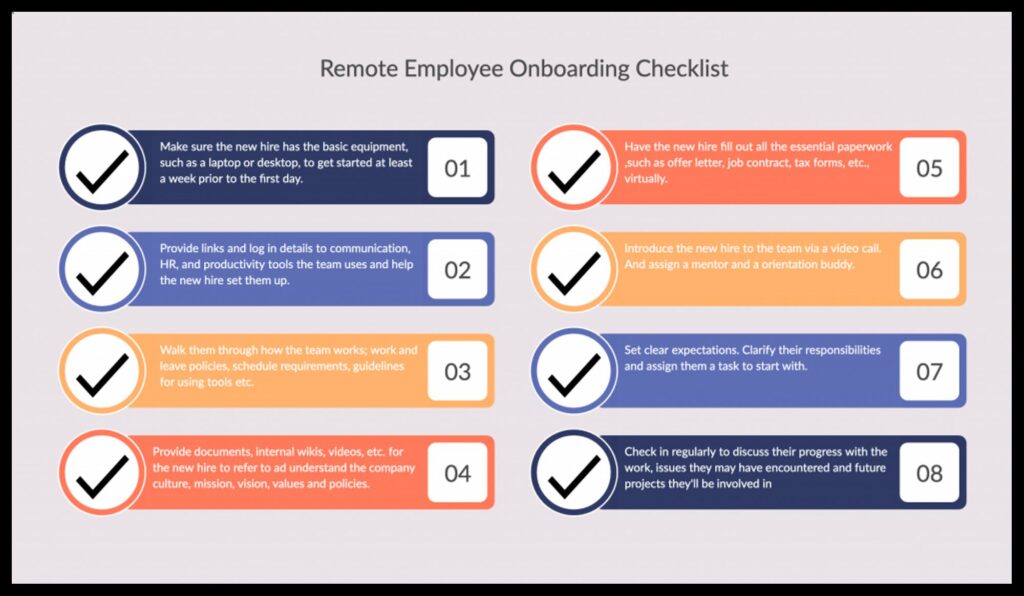 Here is a summary of Efficient ways for increasing working from home productivity that will help you adapt and optimize your onboarding experience to make sure new hires get off to the right start.
Evaluate your existing onboarding process with a support system.
To evaluate the effectiveness of the onboarding process based solely on the feedback of new hires will not be complete and comprehensive. So, you'll need to dig deeper and find the right support system to really measure the effectiveness of your program. A good support software can help you evaluate based on criteria such as: onboarding course completion rates, calculate Time-To-Productivity rates, track engagement rates and even quiz new hires on what they've learned.
Conclusion
Designing effective onboarding strategies for new employees can be challenging. Implementing powerful software and online services into your HR workflows is one way to successfully onboard remote employees. These tools can be used to give employees access to company documents, track goals, provide performance feedback, and much more.
Want to know more about digital adoption and how to improve your business? Give us a visit!