Can Shopify development services assist with migrating my existing website to Shopify?
14/08/2023
Shopify and Shopify Plus are leading e-commerce platforms that offer business owners a range of advantages. This article explores the benefits of migrating to Shopify and Shopify Plus with the help of development services.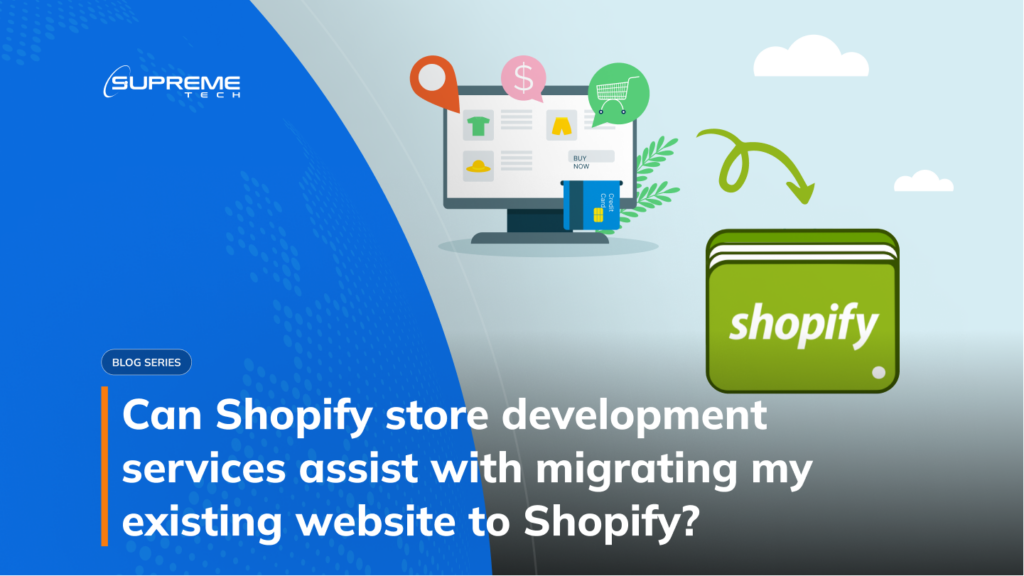 Overview of Shopify and Shopify Plus
Shopify is an all-in-one e-commerce platform known for its user-friendly interface. Shopify Plus, designed for larger businesses, provides enterprise-level solutions. Migrating to Shopify or Shopify Plus unlocks various opportunities for businesses.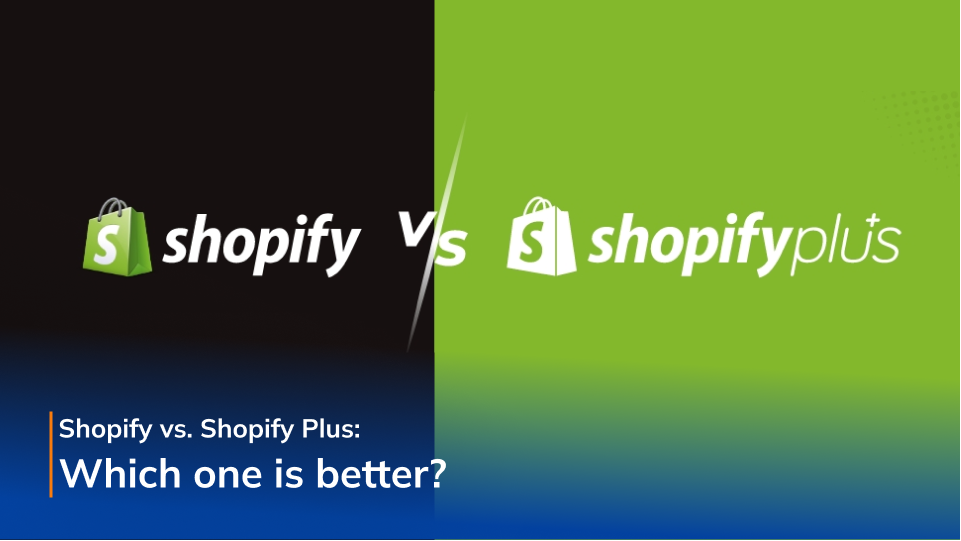 Advantages of Moving to Shopify
Scalability and Growth Opportunities: Shopify allows businesses to expand as they grow, handling high traffic and large product catalogs. Shopify Plus offers advanced scalability features to handle high-volume sales during peak periods.
Simplified Management and User-Friendly Interface: Shopify's intuitive interface makes managing online stores easy. The drag-and-drop store builder and centralized dashboard streamline operations.
Extensive App and Integration Ecosystem: The Shopify App Store offers a wide range of apps to enhance functionality. Integrations with third-party providers can automate processes and improve the customer experience.
Robust Security and Reliable Hosting: Shopify prioritizes security, employing SSL encryption, PCI compliance, and regular updates. Reliable hosting ensures fast loading times and high uptime.
Dedicated Customer Support and Community: Shopify provides 24/7 customer support and a supportive community of entrepreneurs and experts.
Migrating to Shopify or Shopify Plus through development services offers businesses a powerful e-commerce platform. With scalability, simplified management, extensive integrations, robust security, and dedicated support, Shopify enables businesses to thrive online. Consider the benefits of migrating and leverage the expertise of Shopify development services for a successful transition to Shopify.
Understanding Shopify Development Services
Definition and Purpose of Shopify Development Services
Shopify store development services refer to the professional assistance provided by experienced developers to businesses migrating their existing websites to the Shopify platform. These services encompass a wide range of tasks, including website setup, design customization, data migration, integration with third-party tools, and optimizing functionality.
Benefits of Utilizing Shopify Development Services
Streamlined Migration Process
Migrating a website to a new platform can be complex and time-consuming. Shopify store development services simplify the migration process by handling technical aspects, ensuring a seamless transition. Developers have the expertise to transfer data, including product information, customer details, and order history, from the existing website to Shopify. This saves business owners valuable time and minimizes the risk of data loss or errors.
2. Expertise and Experience of Developers
Shopify store development services provide access to skilled professionals who have extensive knowledge of the platform. These developers understand the intricacies of Shopify and stay updated with the latest trends and best practices. Their expertise allows them to offer tailored solutions, address specific business requirements, and provide guidance on optimizing the website's performance.
3. Customization Possibilities
One of the significant advantages of migrating to Shopify with development services is the customization potential it offers. Developers can create a unique and visually appealing design that aligns with the brand's identity. They can customize themes, implement custom features and functionalities, and integrate additional tools and apps. This flexibility empowers businesses to create a highly personalized and engaging online store that stands out from the competition.
Advantages of Migrating to Shopify with Development Services
How Shopify Store Development Services Assist with Migration
Data Migration and Integration
Developers proficient in Shopify can efficiently migrate various data elements, such as products, customer details, and orders, from the existing website to Shopify. They ensure a smooth transfer and integration of these data points, minimizing disruptions to the business operations and preserving historical information.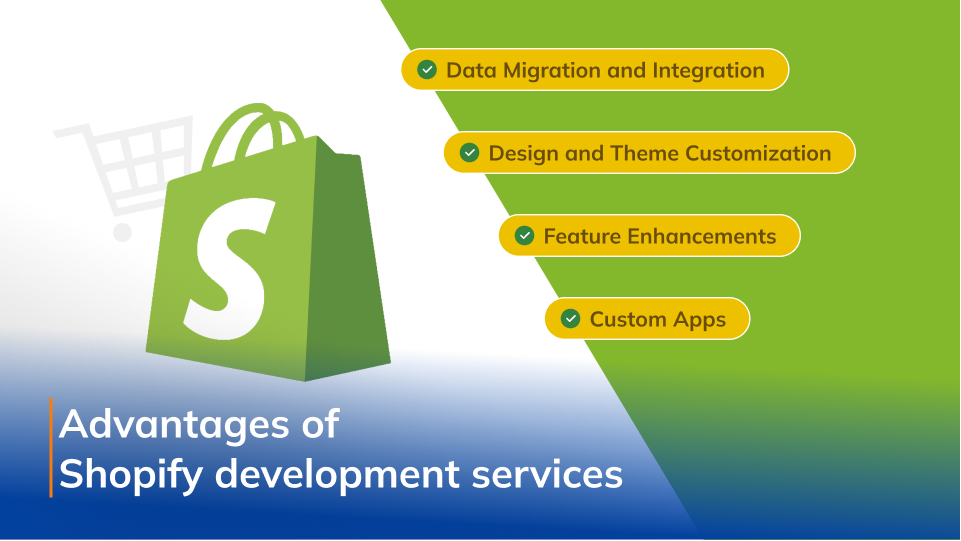 2. Design and Theme Customization
Shopify store development services allow businesses to create visually appealing and brand-centric websites. Developers can customize existing themes or create custom designs from scratch to align with the business's unique identity. This level of customization helps businesses create an engaging and memorable online shopping experience for their customers.
3. Functionality and Feature Enhancements
By leveraging development services, businesses can enhance the functionality and features of their Shopify store. Developers can integrate additional tools and apps to extend the store's capabilities. This could include implementing advanced search functionality, integrating with email marketing platforms, enabling customer reviews, and integrating social media sharing options. These enhancements provide businesses with the tools to offer a seamless and feature-rich shopping experience to their customers.
Successful Website Migrations Using Shopify Development Services
Several businesses have experienced successful website migrations to Shopify with the help of development services. For instance, Fashion Trendz, a popular clothing brand, migrated its online store from a different platform to Shopify with the assistance of developers. The migration resulted in a visually stunning website that improved user experience and increased conversion rates.
Testimonials from Satisfied Customers Who Migrated to Shopify
Numerous businesses have shared positive testimonials after migrating their websites to Shopify with the help of development services. For example, Fresh Foods Market, an organic grocery store, praised the development services for their seamless migration process and the ability to customize their store to match their brand aesthetic. They reported increased customer satisfaction and sales after the migration.
Customization Options in Shopify Development Services
Overview of the Flexibility and Customization Options Available
When migrating to Shopify, one of the key advantages is the ability to customize your online store to align with your brand identity and business goals. Shopify store development services offer a wide range of customization options, allowing businesses to create a unique and tailored shopping experience for their customers. From design customization to implementing custom features and functionalities, the flexibility offered by Shopify empowers businesses to stand out in the competitive e-commerce landscape.
Examples of Customization Features Offered by Shopify Development Services
Shopify development services provide a plethora of customization features to enhance your online store. These include:
Custom Themes and Design: Developers can create custom themes that reflect your brand's aesthetics and provide a seamless user experience. They can customize color schemes, typography, layout, and navigation to match your unique requirements.
Custom Functionality: Developers can integrate custom functionalities into your store to meet your specific business needs. This may include advanced search filters, product customization options, subscription-based services, or multi-language support.
Third-Party Integrations: Shopify development services enable integration with third-party apps and tools. This allows you to extend the functionality of your store by integrating with popular tools for marketing automation, customer support, analytics, inventory management, and more.
Importance of Communicating Individual Requirements to Developers
Effective communication with developers is crucial to ensure that your customization requirements are met. Clearly articulate your vision, branding guidelines, and desired functionalities to the development team. By providing detailed specifications and examples, you can help developers understand your expectations and deliver a customized store that aligns with your business objectives.
Recommendations for Choosing the Right Shopify Development Service Provider
Selecting the right Shopify development service provider is essential to ensure a successful customization process. Consider the following recommendations:
Experience and Expertise: Choose a provider with a proven track record and extensive experience in Shopify development. Look for client testimonials, case studies, and portfolios to assess their capabilities.
Customization Portfolio: Review the provider's portfolio to ensure they have experience in creating custom designs and functionalities similar to what you require. This demonstrates their ability to fulfill your customization needs.
Communication and Collaboration: Opt for a development team that values effective communication and collaboration. They should be responsive, actively involve you in the customization process, and provide regular updates on the progress.
Support and Maintenance: Inquire about the post-development support and maintenance services offered by the provider. Ensure they offer ongoing assistance, bug fixing, and security updates to keep your store running smoothly.
Conclusion
Shopify store development services offer businesses an array of customization options to create a unique and personalized online store. From custom themes and design to tailored functionalities and integrations, Shopify's flexibility allows businesses to showcase their brand identity and meet specific customer needs. Effective communication with developers and careful selection of a reliable service provider are key to achieving the desired customization outcomes. With the right customization approach, businesses can create an engaging and memorable shopping experience that drives customer satisfaction and boosts sales on the Shopify platform.
Get your Shopify Plus custom development solutions from SupremeTech!
SupremeTech offers comprehensive solutions to migrate your current website to Shopify. We have the expertise to build a tailored software which streamlines your e-commerce management and enhance customer experience.
Contact us now to take a step forward and discover how you can make your unique business idea come true with our technical solutions.